MIT, MIT News, News | April 20, 2017
Amos Winter wins the Harold E. Edgerton Award
Global leader in mechanical engineering named the recipient of MIT's esteemed junior faculty award.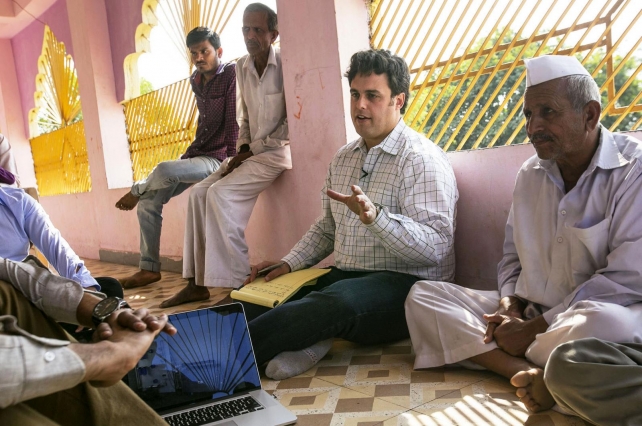 Amos G. Winter, assistant professor in the Department of Mechanical Engineering and director of the Global Engineering and Research Lab (GEAR), has been awarded the 2016-2017 Harold E. Edgerton Faculty Achievement Award, announced today at MIT's faculty meeting.
The award was established in 1982 as a tribute to Institute Professor Emeritus Harold E. Edgerton, for his active support of younger, untenured faculty members. Each year, a faculty committee presents the award to one or more junior members of the faculty, in recognition of exceptional distinctions in teaching, research, and service.
Winter was honored for being "a leader in global engineering, an emerging sub-discipline that seeks creative solutions to persistent challenges in the developing world." The committee, chaired by MIT Sloan School of Management Professor Thomas A. Kochan, also noted "his creativity in designing critical but affordable products within the constraints found in emerging markets, and for his approachable style and advocacy on behalf of his students, as well as the infectious energy he imparts to them."
His research interests include design for emerging markets and developing countries, biomimetic design, fluid/solid/granular mechanics, biomechanics, and the design of ocean systems. His Ph.D. work focused on adapting the burrowing mechanisms of razor clams to create compact, low power, and reversible burrowing systems for subsea applications such as anchoring, oil recovery, and cable installation.
The aim of the RoboClam project is to generate low-power, compact, lightweight, and reversible sub-sea burrowing technology. Applications for this work include dynamic and reversible anchors, littoral reconnaissance, ocean sensor placement, subsea cable installation, and self-installing oil recovery equipment. RoboClam technology is based on the digging mechanisms of Atlantic razor clams, (Ensis directus), which drastically reduce burrowing drag by using motions of their shell to locally fluidize the soil. We have successfully adapted localized fluidization burrowing into engineering applications via the RoboClam robot, which has demonstrated successful digging in both granular and cohesive soils. Ongoing work on this project is focused on articulating the parametric relationships behind localized fluidization in order to create design rules for tuning RoboClam technology to many size scales, substrates, and applications. We are currently developing a new, self-contained RoboClam that will serve as the prototype for a commercial product. We are also investigating whether RoboClam technology can be used to burrow in deep soil applications (>10 m), as well as in dry substrates.
Read the full story at MIT News.