Featured Stories | November 23, 2015
Storify: Confronting Water Challenges in a Changing Climate
By Cassie Martin
Water is a precious resource vital for life on Earth, but climate change, population growth, and human influences are fundamentally changing our water reality. From scarcity and drought to sea-level rise and warming oceans, society is grappling with complex problems that have no clear solution.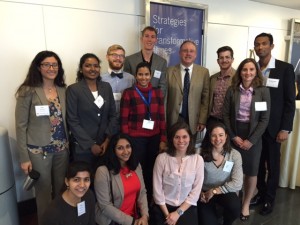 On the heels of MIT's newly released Climate Change Action Plan and ahead of the highly anticipated UN climate change negotiations in Paris, France, the third annual MIT Water Summit brought leaders from industry, government, and academia together on MIT's campus to discuss current problems and potential solutions surrounding Earth's water resources in a changing climate. The two-day event, called 'Thriving with Change,' was organized by the MIT Water Club and sponsored by the Abdul Latif Jameel World Water and Food Security Lab.
Divided into three main panel discussions—Interpret, Innovate, and Implement—the summit tackled the following questions: How can we better understand and cope with the water challenges we face? How can innovation in technology, research, and policy build a more resilient water system? And with a greater understanding of the challenges and new tools available, how can we navigate organizational and geopolitical systems to build a more resilient world?
Invited speakers heralded from government agencies such as the Environmental Protection Agency, U.S. Department of Energy, and U.S. Army Corps of Engineers; innovative water technology companies such as OptiRTC and IDE Americas; and leading research institutions including MIT, Woods Hole Oceanographic Institution, and Boston University. Besides giving brief talks that mapped current stakeholder efforts to address these key questions, the speakers came together to discuss how they should work together going forward.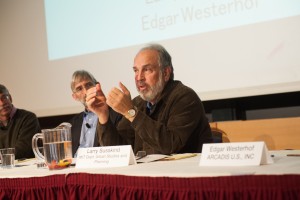 "This is the best conference on these issues I've been to," said Ting Meng, a postdoctoral associate at MIT's Environmental Policy and Planning group. Khulood Rambo, another postdoctoral fellow in MIT's Department of Mechanical Engineering, was pleased to hear panelists discuss the intersection of water and energy—an important topic and research area—as well as interdisciplinary collaboration.
"The water summit panel speakers showcased the vital role of water for humanity's development, energy, agricultural, and industrial needs," said Deepa Rao, an MIT-WHOI Joint Program graduate student and co-organizer of the event. "The most important aspect of this event, in my eyes, was enabling the kind of multi-disciplinary thinking that is so needed to break out of our current practices and find novel solutions to complex water-management problems."
For more on 'Thriving with Change', including a complete list of panelists and keynote speakers, visit the water summit website. Videos of the panel discussions should be available in 2016. In the meantime, Oceans at MIT put together a Storify of live tweets from the event. Check it out!