Featured Stories, MIT, News, WHOI | August 3, 2016
The New York Times Follows Young Ocean Scientists Training in New England Waters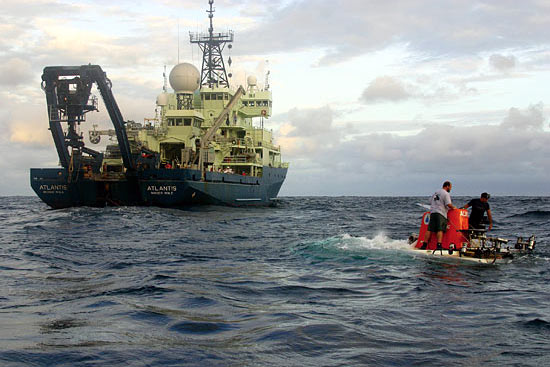 By Lauren Hinkel
New York Times Science reporter Nicholas St. Fleur joins a crew of young marine scientists as they train with the Woods Hole Oceanographic Institution (WHOI) aboard the R/V Atlantis for the second leg of a 2-week research cruise. Throughout the week, St. Fleur will be reporting live on Facebook on the team's missions, the vessel and their discoveries happening off of New England's eastern seaboard.
During this time, the R/V Atlantis, a global class research vessel operated by the Woods Hole Oceanographic Institution, will host 24 early-career scientists as they explore the depths off of Cape Cod and Nantucket. Under the guidance of senior scientists from WHOI and elsewhere, the group will be planning scientific missions around methane seeps in the ocean floor and training to operate state-of-the-art submersibles Alvin and AUV Sentry to collect samples and observations in those regions.
After steaming for about 12 hours, the crew will begin their research about 120 nautical miles off of the coast. Here, Alvin will carry a pilot and 2 scientists to the sea floor—4,500 meters below the surface—where they will begin gathering images, readings and specimens: animals, sediment, rocks and fluid around these methane seeps. Since the young team is comprised of members with diverse interests and specialties, the scientists in the sub will communicate in near real-time with on-board and onshore teams to make sure the mission goes as planned. Together, they will work to understand phenomena like how the ocean crust is formed at mid-ocean ridges, how methane deposits are leaching fluids into the ocean, information on chemical and biological exchanges, how ocean basins are formed, and marine archaeology.
"This is really important because methane is a greenhouse gas, and [it's crucial to understand] how it's affecting the biology in those areas," said Anne Dekas, Stanford Earth System Science professor and mission co-chief to St. Fleur.

Dekas has been on two cruises on the R/V Atlantis before, but each one is different and has new wonders to behold. "Most of the sea floor is relatively barren; it kind of looks like mud," she said. "But when you're going along on the bottom with the sub, and you're starting to approach the methane seep, it's like an oasis of life. There are huge crabs and tube worms and things that you've only seen on National Geographic programs or aquariums. And it's right there in front of your eyes, so it's really thrilling!"
For many scientists just starting out, opportunities like this—to practice science in real-world conditions with some of the world's premier Earth science researchers—are invaluable. "I'm most excited about the young folks that are going to be using Alvin and Sentry for the first time," said Adam Soule, WHOI Associate Scientist and a mission mentor. "These folks are going to be the future leaders in the field of oceanography and ocean science, and having them become familiar with these tools is really going to give them a great jump-start into their careers in research."
Join us virtually, as St. Fleur reports live from the vessel throughout this week.
Watch other live streams here and follow #SeafloorSci on Twitter and Facebook for updates on the team's progress!